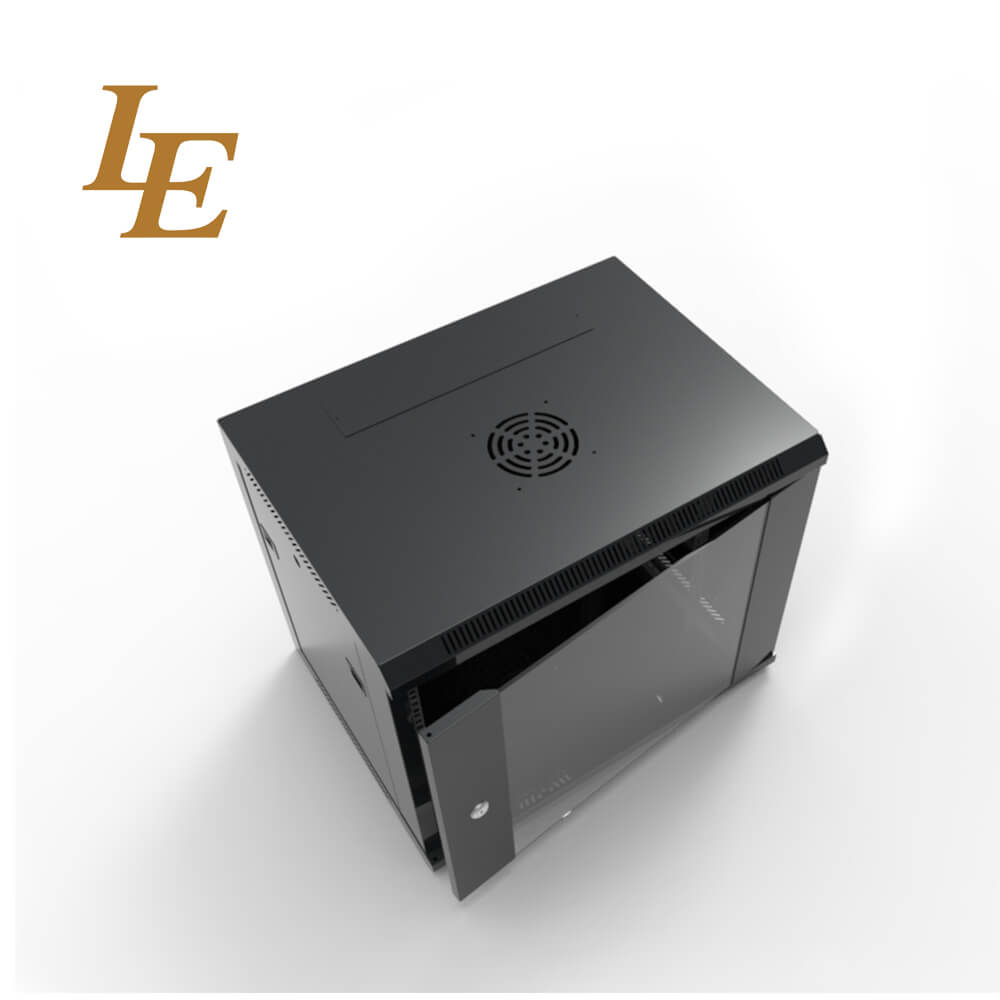 WS1
Welded frame,single section,compatible with 19" standard equipments;5mm tempered glass front door with over 180 turning degree;Removable side panel,easy to install and lock optional;Cable entry on the top and bottom;L-shaped mounting profile,easy to adjustable on the mounting rail;Fan cutout on the top,easy to install fan;Installing back panel,easy to fix on the wall;Various accessories for option;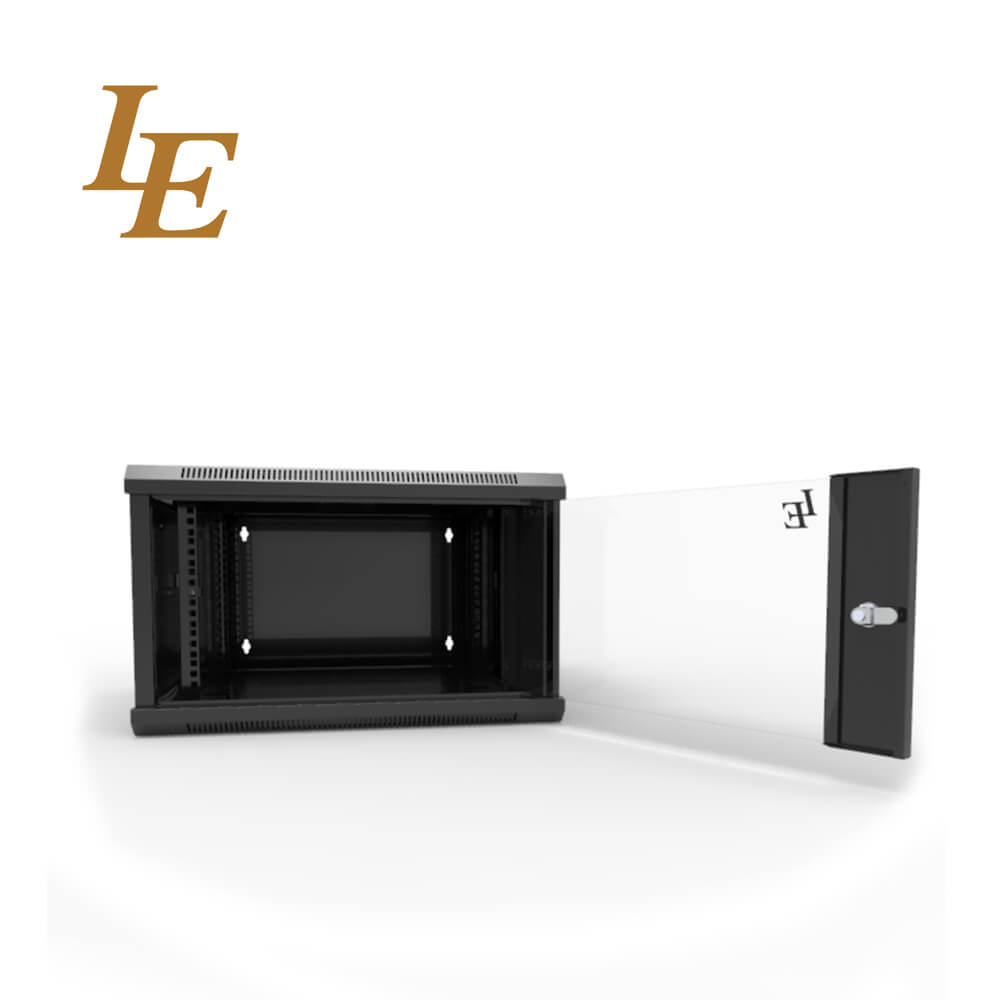 WD2
Steel frame with assistant profile unassembled structure,compatible with 19" standard equipments;5mm tempered glass front door with over 180 turning degree;Removable side panel,easy to install and lock optional,second section can open ,easy to install equipments;Cable entry on the top and bottom,the same as second section;L-shaped mounting profile,easy to adjustable on the mounting rail;Fan cutout on the top,easy to install fan;Second section with four mounting holes ,easy to fix on the wall;Various accessories for option;Flat packing,save the container space,easy to transport;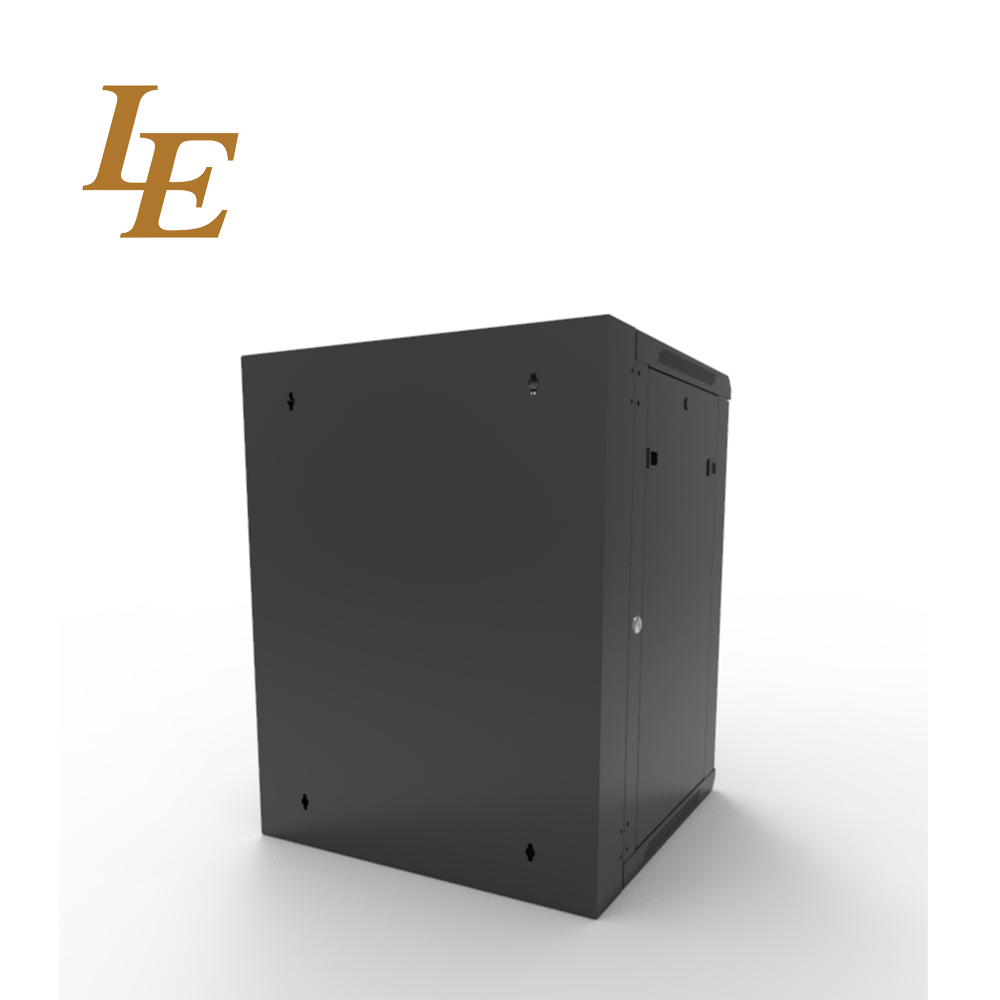 WD1
Welded frame,double section,compatible with 19" standard equipments;5mm tempered glass front door with over 180 turning degree;Removable side panel,easy to install and lock optional,second section can open ,easy to install equipments;Cable entry on the top and bottom,the same as second section;L-shaped mounting profile,easy to adjustable on the mounting rail;Fan cutout on the top,easy to install fan;Second section with four mounting holes ,easy to fix on the wall;Various accessories for option;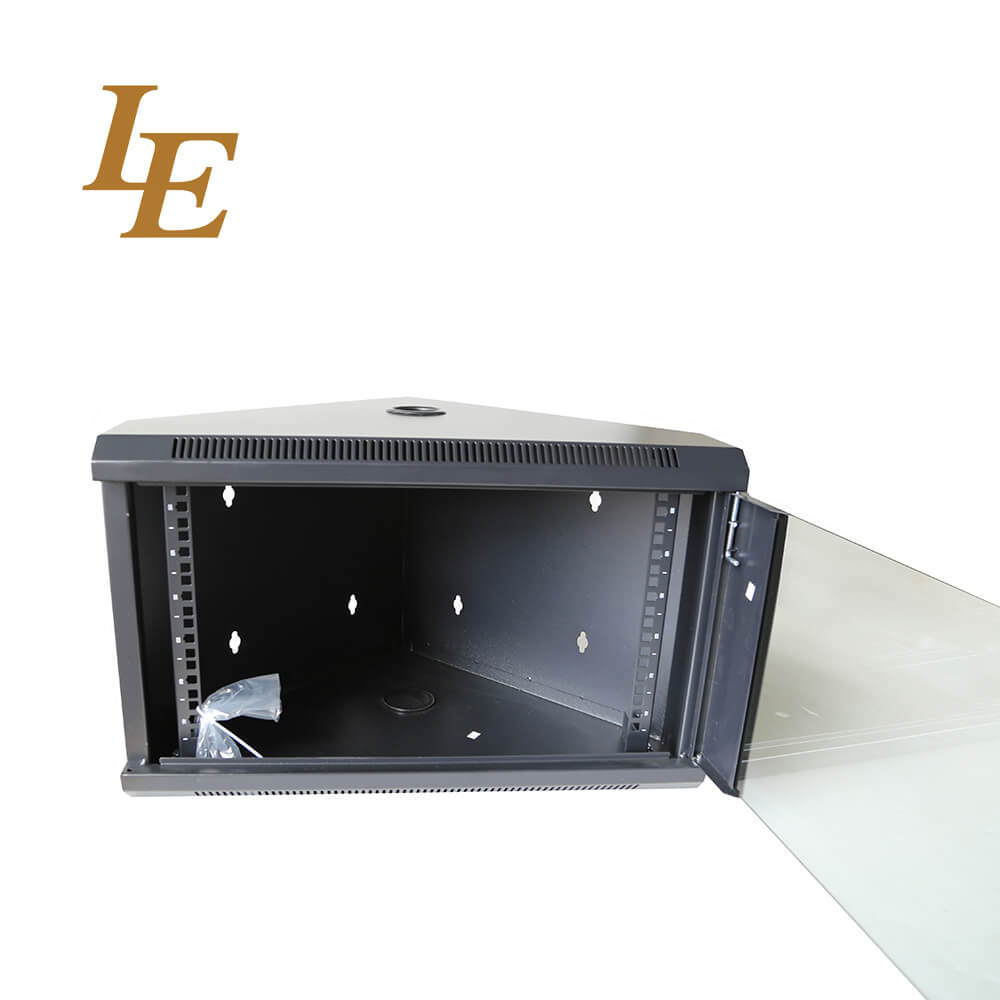 CW
· The triangle structure could reduce the space and install to corner of wall,compatible with 19" standard equipments;· 5mm tempered glass front door with over 180 turning degree;· Removable side panel,easy to install and lock optional;· Cable entry on the top and bottom;· L-shaped mounting profile,easy to adjustable on the mounting rail;· Fan cutout on the top,easy to install fan;· Eight Installing holes on the back panel,easy to fix on the wall;· Various accessories for option;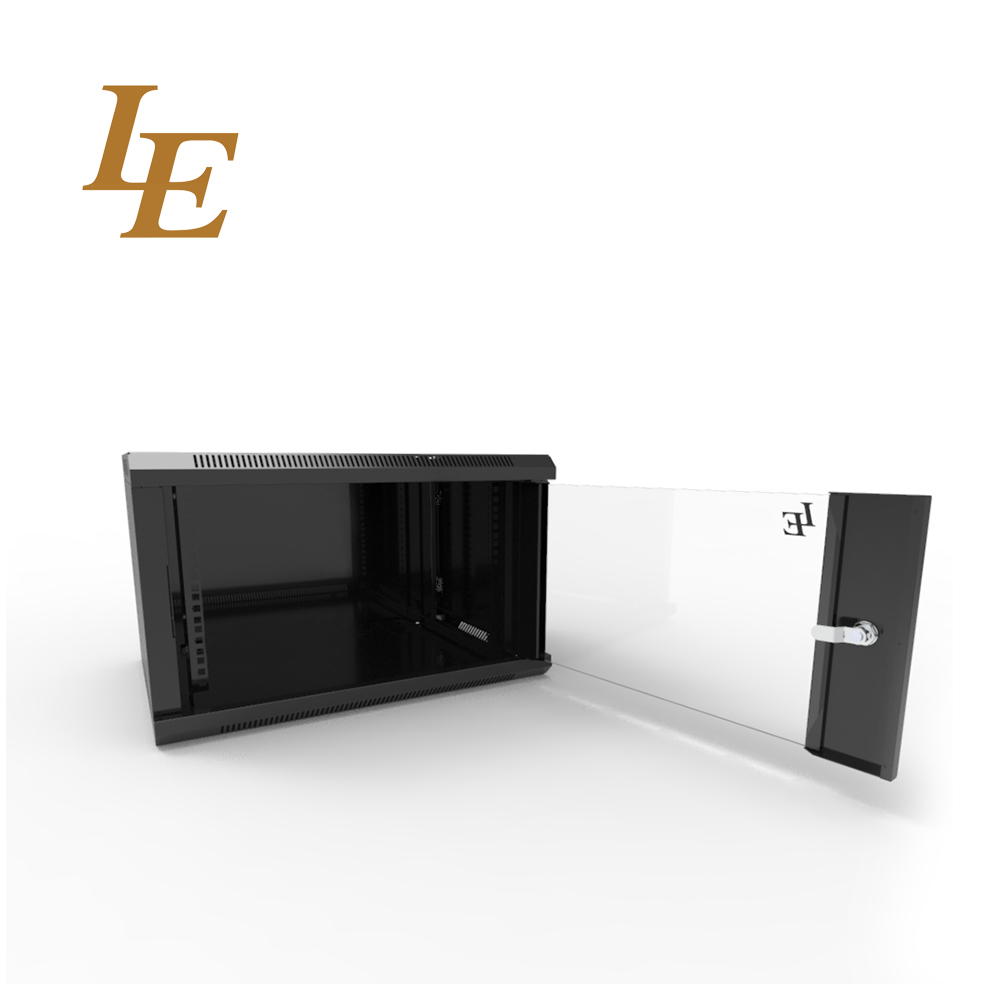 WS2
Steel frame with assistant profile unassembled structure;Single section,compatible with 19" standard equipments;5mm tempered glass front door with over 180 turning degree;Cable entry on the top and bottomL-shaped mounting profile,easy to adjustable on the mounting railFan cutout on the top,easy to install fan;Back panel with four mounting holes,easy to fix on the wall;Various accessories for option;Flat packing,save the container space,easy to transport;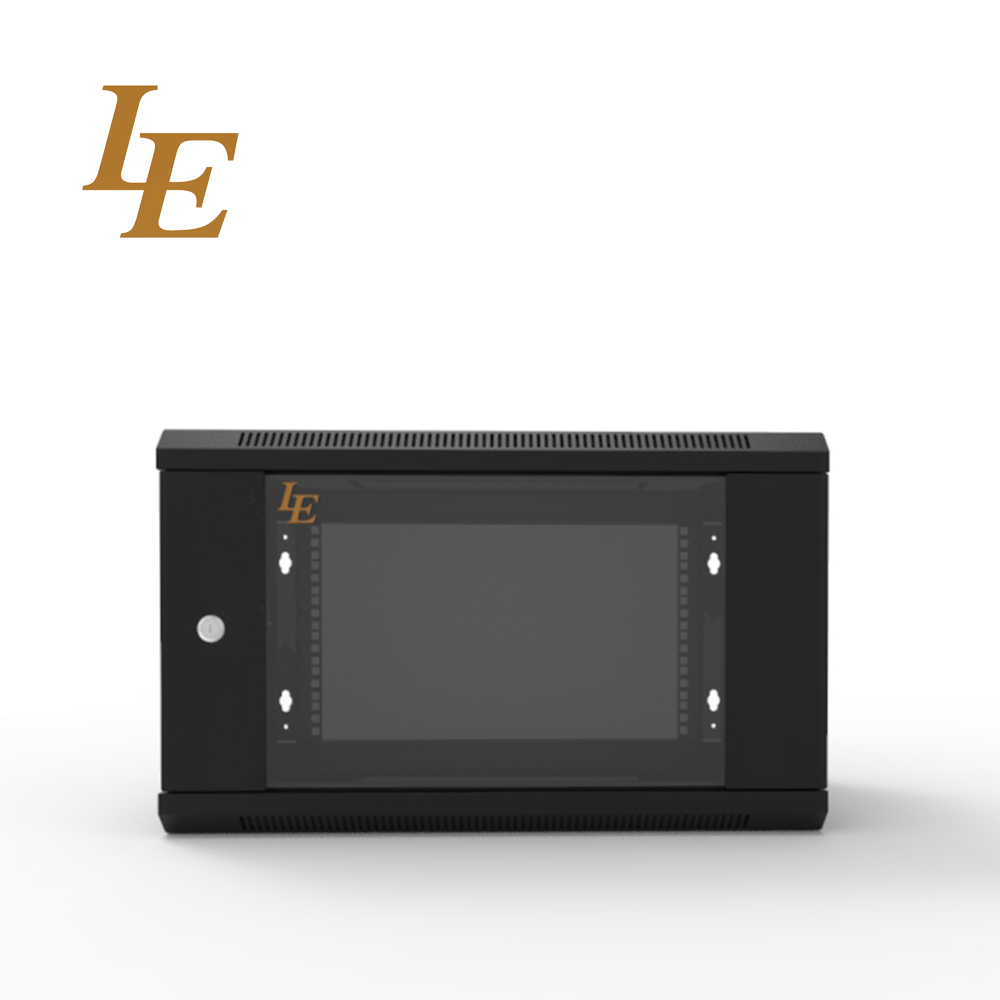 WS3
Steel frame with assistant profile unassembled structure;Single section,compatible with 19" standard equipments;5mm tempered glass front door with over 180 turning degree;Removable side panel,easy to install and lock optional;Cable entry on the top and bottom;L-shaped mounting profile,easy to adjustable on the mounting rail;Fan cutout on the top,easy to install fan;Back panel with four mounting holes,easy to fix on the wall;Various accessories for option;Flat packing,save the container space,easy to transport;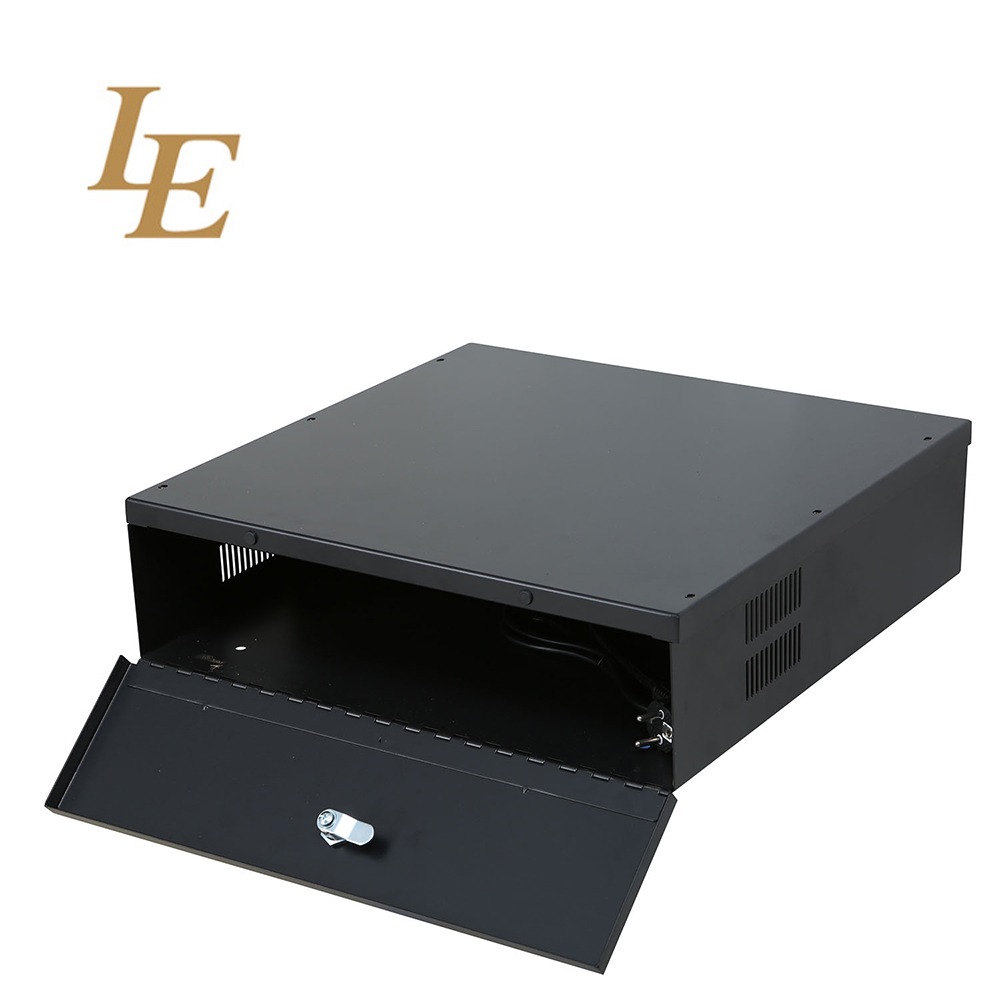 DVR Security Box
LE DVR lockbox is ideal for applications when security is important and easy access to equipment is essential. It can be used in home or office settings to secure DVR, VCR, or other electronic equipment that stores sensitive media. Secure equipment inside the box with the lockable hinged door.A mechanically interlocking top is removable, when the door in unlocked, to allow easy access to equipment for servicing.A built-in fan with power cord and side air vents are included to prevent equipment from overheating which helps with performance and longevity.Punch out holes located in the back of the box allow for simple and organized cable management.Made from 1.2MM SPCC quality cold rolled steel for strength and protection with a black electro-static powder coated finish.LE has offered high-quality network cabling products at value prices with excellent responsive customer service and fast shipping.

Wall Mount Network Cabinet
A network cabinet, also known as a rack, a server cabinet (English: Server Rack) is a combination of hardware structures designed to accommodate technical equipment including routers (routers), switches circuits (switches), hubs, storage devices (UPSs), cables and, of course, servers. It is also possible to understand the network cabinet as a bracket that allows to keep the server and many important devices attached in a firm, fixed position, contributing to ensuring stable operation. Network cabinets are often used by businesses that own servers, are located in data centers (data centers) or communication centers and are an integral part of the server.
Benefits of network cabinets
1.Optimize the structure of a server system: The network cabinet is usually a frame containing a tall, spacious, breathable structure, and can accommodate a variety of different devices in the same place. according to the relatively scientific layout. This helps keep the server system's hardware devices organized in an organized manner, thereby maximizing the use of floor space. For large-scale server systems, network cabinets can also be installed side by side in long rows, when teams are called server assemblies,
2.Better cabling management: A good quality network cabinet will be designed to make cabling system management easier and more efficient. You can set up hundreds of power cables, networks, and more through these brackets while maintaining a secure, neat, and organized way.
3.Delivers efficient cooling: Keeping network devices cool to optimize overall performance is often a major challenge for any data center, and network cabinets. is a device designed to support this task. The design of the network cabinet will be optimized so that the airflow can be easily circulated from the inside out and vice versa, and can also be equipped with a cooling system, mainly a cooling fan, and other cooling devices as needed depending on actual requirements.
4.Security support (physical): Network cabinets are usually made of hard metal and have a lock to limit unauthorized acts on the internal hardware equipment system. Besides, the closed network cabinet has a door that also helps prevent accidental or intentional collision with the power button or cable, which can cause unfortunate incidents.
Classification of network cabinets and some typical network cabinet size options
There are many ways to classify network cabinets, according to features and price, but the most common is to classify them according to cabinet size. Here are 3 typical network cabinets group by size.
Small network cabinets: From 1U to 12U
This is the most commonly used group of network cabinets for basic information technology needs (in offices, small businesses). They can vary depending on the particular situation, in which space, traffic and hardware device size are factors that must be taken into account.
Small network cabinets are often installed in limited spaces, even wall mounted
Small network cabinets (from 1U to 6U) are usually installed in height-restricted spaces, even wall mounted. Network cabinets of this size are often found in use cases involving telecommunications management as well as monitoring equipment.
It is also important to consider the weight of the network cabinet as in fact, some devices (such as UPS) may be bulky, heavy, and need a stronger network cabinet.
Medium size network cabinets: 18U, 22U and 32U
These are the most commonly used network cabinets in small and medium sized companies and offices. Telecommunication devices, servers and network equipment can be installed in these cabinets, allowing for easier routing and cable routing, while ensuring a well-ventilated space. Inside cabinet space, support overall cooling capacity.
Some advantages of cabinet sizes from 18U to 32U include:
1. Easy and quick assembly
2. For excellent portability (most network cabinets this size are mounted as wheels to be easily moved from place to place)
3. Provides high flexibility in many mounting and placement options thanks to adjustable mounting options, such as removable doors
4. Ensuring security and safe operation, the structure allows airflow from outside to inside and vice versa more effectively
Large network cabinets: 42U, 45U and 48U
Cabinets models in this segment are sometimes called Higher-U. In particular, 42U network cabinets are the most commonly used type, often used for professional audio and video equipment, and of course, to accommodate both large-scale servers and network systems. This size allows a technician to efficiently organize all hardware components, while still saving the space needed for many needs - a very important feature when it comes to systems made up of a large number of devices.
Companies operating in the field of providing network services and automated hardware equipment are the subjects that require the use of large-sized network cabinets, most popular in the range from 45U to 48U.