Data Center Containment Network Cabinet
LE-MDC
Quick Overview:
1. Combination aspect
: Our modular room can be used as an overall solution.
c
losed channel, racks, wiring, powder distribution, intelligent management and other parts can be also offered separately, which are fit well with any other brands. Manufacturer is responsible for drawing, producing, assembling on site for new cooperated brand products, and manual instruction will be offered at the same time.
2. Appearance aspect
: Well designed by professional art team, beauty and function are coexisted. Different colors are available as per customers
'

request. Featured products are the perfect combination of champagne color enclosure and black aluminum racks, coordinated with colorful cable bridge, making the drab room more visual impacted and beautiful than before without losing technology sense.
3. Air distribution aspect
:
Our modular data center could take cold or hot aisle containment by combining with air supplying mode, which can effectively solve the energy waste and improve the efficiency of air conditioning refrigeration.
4. Power distribution aspect

:

U

sing the power supply way of busbar monitoring or intelligent power distribution. Compared with the traditional cabling power supplying, Busbar power supplying is more flexible on power supply configuration, which could be added at any time, plug and play if you want to.
5. Security Protection aspect
: Closed channel door uses access control systems
with many programs available, which can achieve linkage control together with
operating
illumination; Color video camera will be installed inside to get real-time monitoring for the aisle.
6. Intelligent management aspect
:
We
develops a dedicated micro-module environment management system. Management system could keep real-time monitoring of infrastructure of IT equipment, air conditioning, lighting, humidity, video surveillance, channel controlling, dormer flapping, joint fire protection, and do statistics and analysis for the power consumption of the device. It could provide real time data of the key indicators
-

PUE value, capacity management asset management and other functional modules.
General Description:
With the rapid development and constant fierce competition of the communication industry, operators begin to focus their full attention on the development of business and quality of the whole network. As the protection-support-system and the heart of the entire network , network power system smooth running and service quality of network,which is self-evident. Therefore, the reliability and high availability of integrated network room becomes the basis of communication industry to develop stably.
LE modular data center divides whole room into several independent areas. the regional scale, power termination and configuration, etc are customized and designed according to the demand. A module is a single small independent data center. As the business requirements are expanding, the increasing of the independent module can satisfy different customers' demands of reliability level, power density, and safety level, so as to realize the Purpose of rapid construction. It integrates all subsystems such as racks, power distribution and supply, refrigeration, wiring and intelligent management, etc. It will support a flexible mode of deployment with single or double row closed cold/hot channel.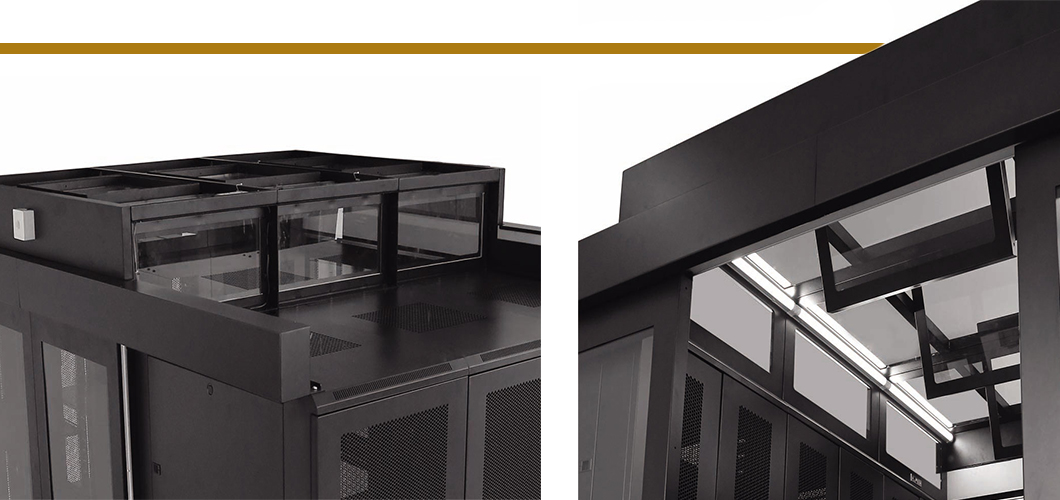 Enclosure structure:
Top cover and doors sizes could be customized according to cold/hot aisle;
Standard size for the top cover:600/800*1200mm;Door: 1000*2200mm.
LE cabinets series:
Standard cabinets:600/800*1000/1200*2000/2200(W*D*H); mesh/glass door can be optional;
High-end cabinets:600/800*1000/1200*2000/2200(W*D*H); mesh/glass door can be optiona;
Specification: compy with 19inch installation standard;Doors: front and rear are mesh doors( other types are optional),side panel removable;Airfow:front in and rear out;Static loading: ≥1000kg;Cabe entrance: no less than 4pcs cable entry at the front and rear part of the rack,2 earthing kits at the bottom.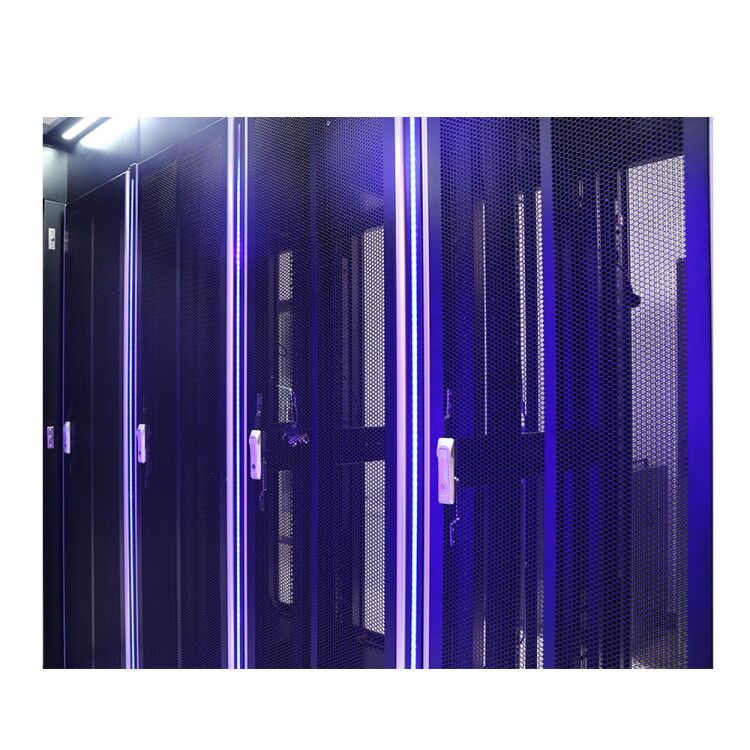 Surface finish: Degreasing, picking, phosphating, then environmentally powder coated(Black with wrinkle finish or flat finish for option), the color could be customized to show the customers' company color, or could be designed with the racks' coor integrally;
Dormer and aise modular are standard integrated modular, which is an independent structure not replying on racks loading capacity. Avoiding destroying the racks oading capacity, it is damping on the dormer which coud be turned sowly in 90degree;
Aisle door: 5mm thickness toughened glass for the translational door(sliding door for option), size: 1000mm(W)*2200mm(H);it's required that the doors could be automatically positioning when closed and automatically locked when closing;
Ceiling: 5mm thickness toughened glass, up to 80% transmittance, it gets advantage of light weight and unbreakable to avoid wounding people; the ceiling could be customized according to the racks sizes and the length of the aisle. It's designed as an integrated modular center, produced by the factory, installed on-site,and it could be dismantled separately;
Sealing: sealing bars are used between the unit modules and enclosure doors in the aisle,and it should be no visible gap to avoid cold air leaking efficiently;

Joint fire protection: Once receiving the fire alarm signal, the dormer could been opened automatically. To avoid any emergency, it could be closed by hand; there is audible-visible annunciator installed on the top of the translational doors, aisle door access get power linkage to cut off the electric power;

Top cable management: Closed management, column management and pigtailed management(for option) could be used on the electric strength cable management, it could be installed top-mounted, or hoisted mounting(for option). The sizes could be designed according to electric strength cables, and it should avoid the mix design of the electric strength cable management, and no exposed cable management at the front and inside of the aisle;

Assembly: There is no external screw design;

it could be seamlessly assembled with the racks of different brands,size and height.